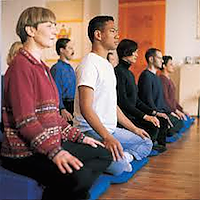 Sunday Morning Meditation
Come and join the group for sitting meditation practice at any time. We generally alternate 25 mins of sitting meditation with 10 mins of walking. Below is the current schedule:
Sunday Schedule
10:00 Morning Chants (Chants are open to anyone but one should enter only before or after chants)
10:15 Sitting Meditation
10:25 Walking Meditation
10:35 Sitting Meditation
11:00 End Sitting.
Dharma Dialogue, an optional 60 minute group discussion begins at 11am. See the Program listings or Monthly Calender for additional information. All are welcome to participate.
When to arrive: If you wish to attend morning chants please arrive for a 10:00 start. After this time entering or departing from the shrine room is best done during the walking periods. The door is usually ajar during these times. But if you arrive just after a sitting has started you may certainly enter quietly, place your cushion, and begin.