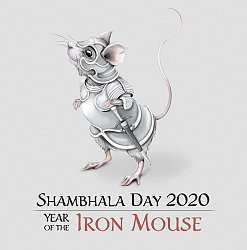 SHAMBHALA DAY CELEBRATION
We will host a community gathering honouring Shambhala Day on Wednesday evening, February 26th, at 8:30 pm, following the regular meditation sitting. We will enjoy some food and fellowship and new members who have joined over the past year are invited to receive membership pins.
Shambhala Day marks the beginning of the New Year, and represents one of the most important traditions of Shambhala Buddhism. Based on the traditional Tibetan New Year's celebration of Losar, the day is calculated astrologically according to the Tibetan lunar calendar, and changes every year to coincide with the annual lunar cycles.

This year Shambhala Day is on Monday, February 24, 2020, with the official live broadcast beginning at 2:30 pm Newfoundland time.