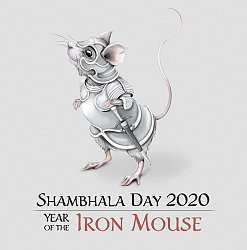 SHAMBHALA DAY 2020
Year of the Iron Mouse
ANNUAL LIVE BROADCAST will be hosted at the St. John's Shambhala Shrine Room Monday, February 24th, 2:00 pm

Shambhala Day marks the beginning of the New Year, and represents one of the most important traditions of Shambhala Buddhism. Based on the traditional Tibetan New Year's celebration of Losar, the day is calculated astrologically according to the Tibetan lunar calendar, and changes every year to coincide with the annual lunar cycles.

This year Shambhala Day is on Monday, February 24, 2020, with the official live broadcast beginning at 2:30 pm Newfoundland time. We've all been through an incredibly challenging time, personally and as a sangha. It feels important to recognize that many of us are in different places with our feelings about Shambhala, practice, and the Sakyong. It is our hope that we can be there for each other, amidst these differences, to practice, and be in community together. For Shambhala Day, we are trying to create a broadcast that will feel inclusive and celebrating what we have in common.

This broadcast program this year will be jointly hosted at Karme Chöling, Vermont (celebrating 50 years!) and the Shambhala Centre in Prague, Czech Republic. Leaders and members from those Centres will share video and cultural offerings. Shastri Trinley Busby will lead us in a worldwide group practice, speaking about what binds us as a community. There will also be video greetings from throughout our worldwide community. There will be a few new components to this year's broadcast as well as some traditional elements. We hope that the broadcast feeling and content will feel relevant and welcoming for all members of our sangha.

If you are unable to join us in the St. John's Shambhala shrine room for the live broadcast on on the 24th, it is available at Shambhala Online.
We will also have a community gathering honouring Shambhala Day on Wednesday evening, February 26th, at 8:30 pm, following the regular meditation sitting. We will enjoy some food and fellowship and new members who have joined over the past year are invited to receive membership pins.
Contact [email protected] for more information.