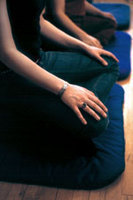 Wednesday Evening Meditation
PLEASE NOTE: Passwords are now required for all Zoom events. Email [email protected] to request passwords. Our newsletter subscribers will have received the passwords to regular practice events by email. Please let us know if you did not receive an email and you are a sangha member or subscriber.
***
Join us online through Zoom video conference for sitting meditation practice. All are welcome. Opening of the shrine begins at 7:15 pm, with sitting at 7:30 pm. The format provides 25 mins sitting, 10 mins of walking meditation, and ending with a final 25 mins of sitting.